Are you a photographer, designer, or developer, looking a way to showcase your work to the world? Portfolio is one of the best options. By creating a beautiful portfolio website using WordPress portfolio plugins you can easily show all of your masterpieces to the world. And the best thing, WordPress also allows you to insert portfolios such as image, videos, etc. into posts and pages. Now what's more you want – make your work creative with this method and show it to all over world, let's see how;
The very first let's discuss in detail what WordPress portfolio plugin is in actual;
What are WordPress Portfolio plugins?
Basically, the term 'portfolio' refers to an amazing method showcases your images and videos. We can say – WordPress portfolio plugins are tools that highlight your creative work to the world. They support images, YouTube, Vimeo, mp4, and WebM videos, etc.
Further on, portfolio plugins make ways easy for photographer, videographer, or a graphic theme designer. Also, using these plugins you can also create one of a kind and creative portfolio without having the coding knowledge within hours.
All plugins are user-friendly come with easy to use and installation. Further, they all have instructions guide so that you don't face any problem. More so they include tons of distinct features and layouts to choose from.
Continuously, there are a lot of free and premium portfolio plugins, all of them serve as an advantage that you can integrate into an existing theme or site. But the problem is how to choose the best one – the plugin which basically meets your business requirements is one of the best for you. Hence, opt the best one among mentioned below plugins that is suitable for your business.
Benefits of using the portfolio plugins
Any developer or designer who wants to showcase their creativity to the world can take the benefit of a portfolio plugin. However, many roles use these plugins like freelance writers to display their past writing clips, but these are the most beneficial for visually oriented creators.
Basically, to hire more and more clients, uploading your photos to a simple WordPress site would not give as much benefit as a portfolio plugin installed site can give.
The best thing is that all the plugins are easily installable & use. You can upload media and various effect by just clicking the publish button. However, among them, most of the plugins come with documentation that help you in case you are facing any problem.
Finally, if you want to save your time so using the best WordPress portfolio plugin is the better option to showcase their work.
Before exploring the topic, there is a confusion between choosing WordPress portfolio plugin and themes, so to keep you away from this confusion we will explain to you a few words regarding portfolio plugins and theme comparison.
Choosing WordPress portfolio plugins Vs WordPress portfolio themes
A lot of WordPress portfolio themes include advanced features & functionality allows you to build the best portfolio site. From this perspective why you want a plugin when the theme can do this job.
But both of them – themes and plugins perform different tasks, let's see;
A WordPress theme can only control the visual appearance of your site which includes styles, layouts, colors, and presentation of your content.
While a plugin is the best method to add additional functionality to your site like contact form, slider, etc. And adding a portfolio in a site is a functionality, that's why it should be added with a plugin.
Continuously, using portfolio theme on a site means you are tying your site with that and you may have chances to lose your data if you want to change it. However, it will be stored in your WordPress database and not be visible with your new theme. In this situation, restoring it for using with a new theme can be a very difficult task.
That's why choosing the portfolio plugin is the best option because you can use it with any theme that you want.
Now the question is how you will opt the best one among the bunch of the plugin. Let's see we will tell you what you should look in the best plugin.
What you should look in a WordPress portfolio plugin?
Most plugins have common features that make it a little bit easy to choose a plugin. Still, there are some different features that a plugin should have to display the same situation. So, opt the plugin that;
The plugin should be various types of media supported because may have various forms of media.
Ability to create more than one portfolio because you may have multiple styles or portfolio pages.
The plugin should have the ability to add animations, overlays, text, some other features that can help to make your portfolio amazing.
Finally and best of all, the plugin should easy to use that beginners can operate easily.
Bending towards the main point, let's discuss the best free & premium WordPress portfolio themes plugins. Compare and choose the one that suits your business requirements. Let's have a look-
Best WordPress Portfolio plugin – 2019
1. WP Portfolio | 2. Envira Gallery | 3. WonderPlugin | 4. Nimble Portfolio | 5. FooGallery | 6. Easy Portfolio plugin | 7. TLP Portfolio | 8. Codenova Portfolio | 9. Essential grid plugin | 10. Go Portfolio | 11. Media Grid | 12. Huge IT Portfolio | 13. NextGen gallery | 14. The Post grid plugin | 15. Portfolio by BestWebSoft | 16. Amazing Portfolio | 17. Custom Content Portfolio | 18. OTW Portfolio Light | 19. ZoomFolio | 20. Grid FX | 21. Cube Portfolio Responsive Grid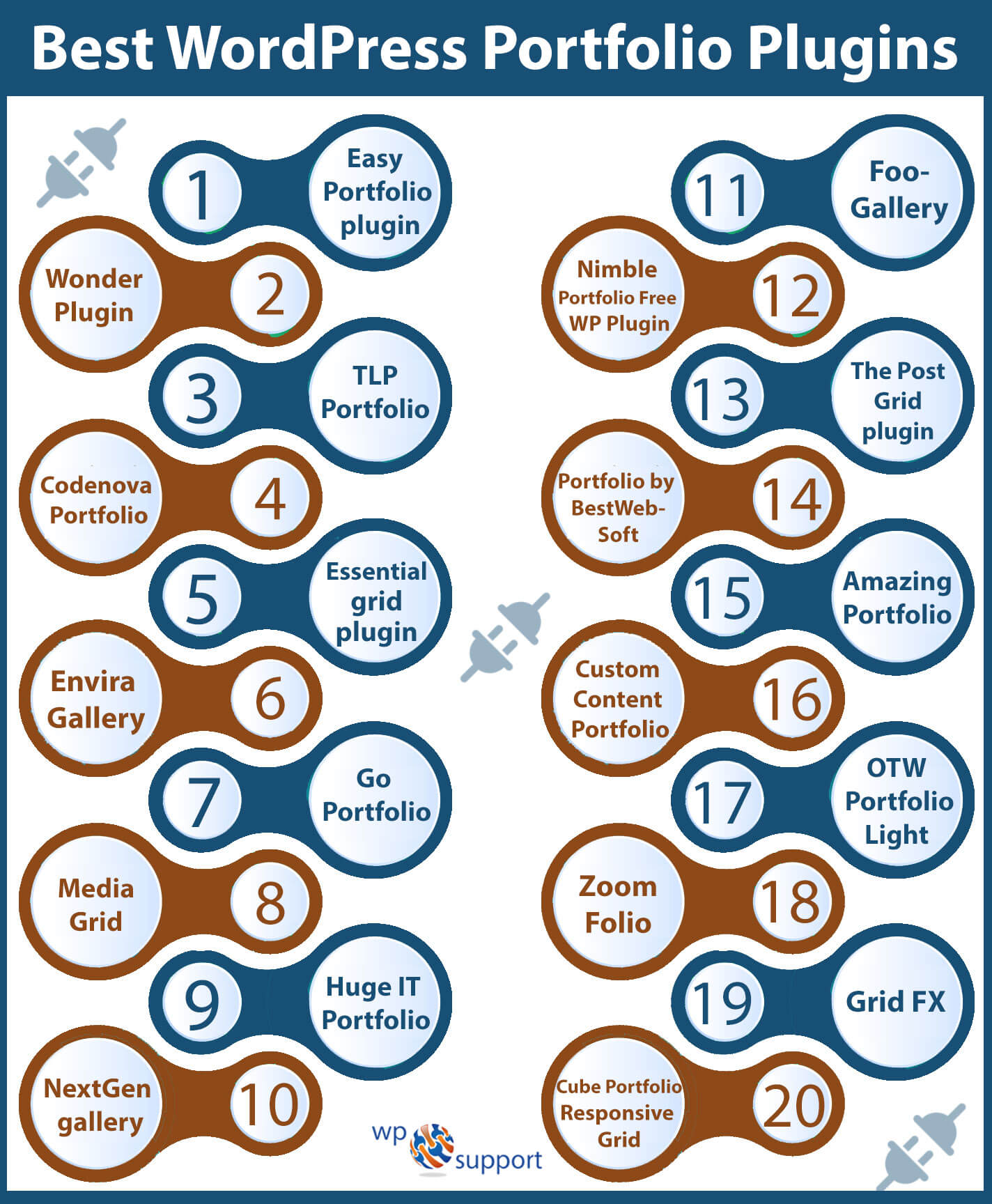 Let's get cracking in detail;
1. WP Portfolio
WP portfolio is also one of the best WordPress portfolio plugins in the market. It allows you to create a beautiful portfolio site which showcases your masterpiece to create a good impression on your visitors.
In other words, it is a perfect solution to make amazing portfolios and teasers for your site. Means to say, you can display the site to the world you have worked on.
Further, it comes with easy integration and a simple interface that provides you the best user experience. It is a single click importer, means, you can import a beautifully designed dummy site within a single click. This is a responsive plugin which help to adjust all your data and images on different devices and browsers.
With the help of new custom post types that include audio, video, thumbnails, images, and lightboxes, you can also create portfolios apart from showing the ready site templates. Also, it helps you to showcase blog posts or any other custom post types, for example – WooCommerce.
What's more, it is compatible with major page builders like visual composer, elementor, and beaver builder.
Key features
Unlimited layouts
Lightweight
Performance focused
Integrated demos
Lazy loading
Item search system
Infinite scroll
Sortable categories
Masonry grid
Pricing
Its WP portfolio version available at $49, mini agency bundle at $169, agency bundle at $249.
2. Envira Gallery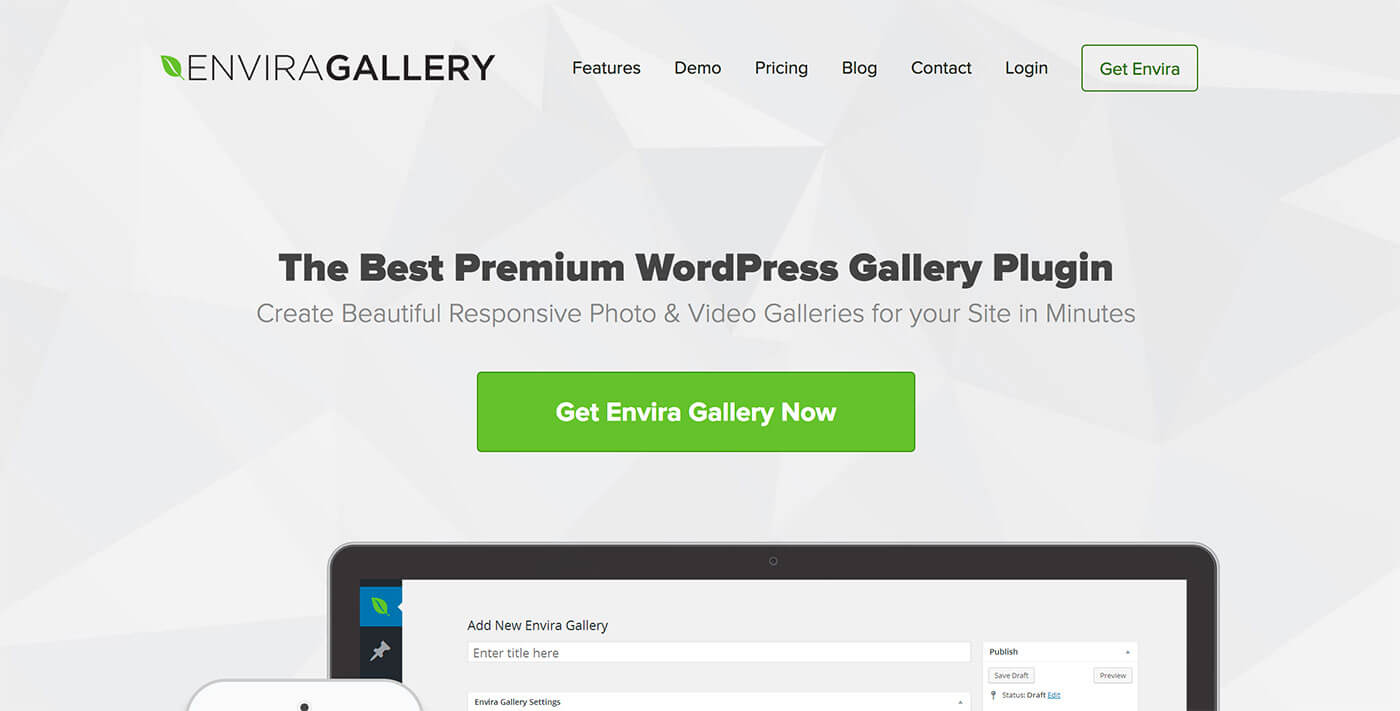 Envira is a drag & drop photo gallery portfolio plugin with easy to customize features. It is a premium plugin allows you to showcase your work by creating beautiful image galleries and albums in a responsive and filtered manner. However, this is one of the best plugins for photographers and designers.
With this, you can simply create galleries in which your portfolio items included, as well as add these items anywhere on your site within a click.
Further, it comes with drag & drop builder allow you to create beautiful photos and videos with any difficulty. Apart from that, it has tons of features, elaborated are as follows;
Key features
Pre-built gallery templates
Video support
Albums and tags
Fully responsive
Image protection
Adobe Lightroom
Mobile friendly
Drag & drop builder
Slideshow & full screen
Social media integration
Watermark & protection
Deeplinking & pagination
Compatible with WooCommerce
Retina ready & responsive design layout
Pricing
It's Gallery Basic version available at $29, Gallery Plus at $69, Gallery Pro at $99, Gallery Agency at $299.
3. WonderPlugin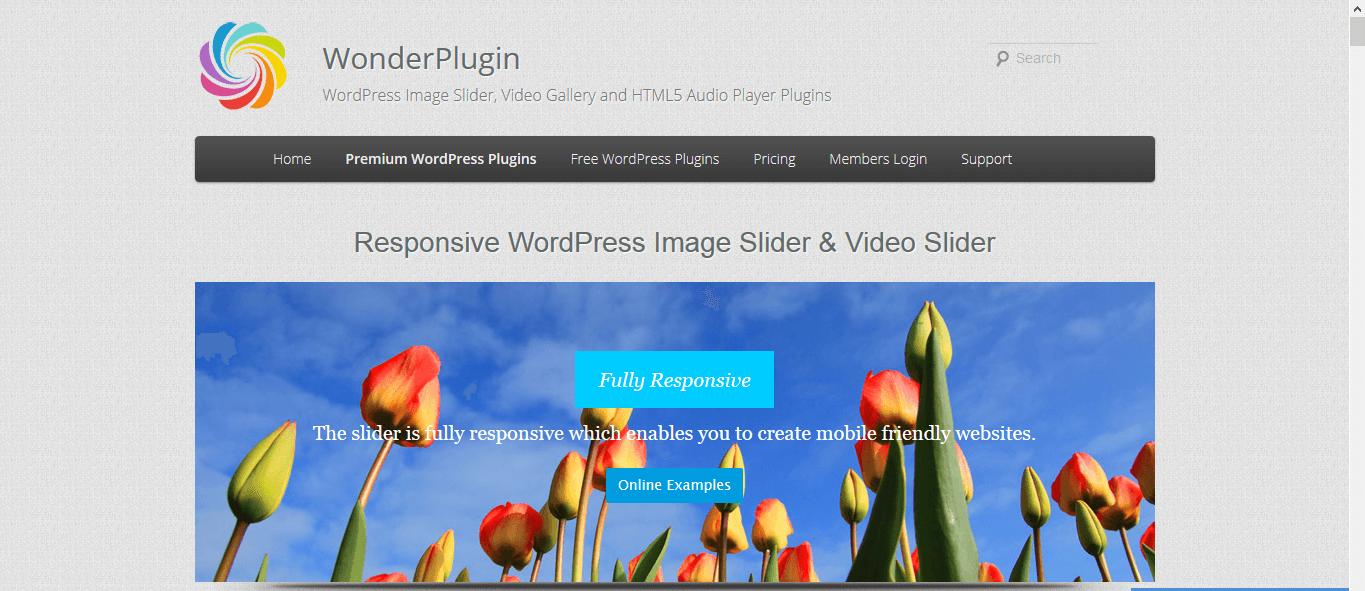 WonderPlugin is one of the most flexible portfolio plugin allows you to display your videos and photos. This plugin supports images, Self-hosted Mp4 & WebM videos, YouTube, Vimeo. The plugin is compatible with all devices mobile, tablets, laptop, desktop, etc.
With this plugin, you can setup WooCommerce store. Also, it comes with a lot of other plugins such as WordPress 3D Carousel Plugin – allow you to create sliders and responsive 3D carousel for your site. Apart from that, WordPress Audio Player Plugin – the best way to add HTML5 audio player, WordPress Carousel Plugin – to create carousel slider, image scroller, video lightbox, and vertical image scroller, WordPress Gallery Plugin – to display photos and videos, WordPress Popup Plugin – to create lightbox popup, WordPress Slider, WordPress Tabs, and WordPress Video Plugin & Widget.
It includes a lot of categories like Wilderness, Waves, WordPress hosting carousel plugin, Sunrise, Portfolio grid gallery, Island, elephant dreams, Green, big buck bunny, Forest, Evening, Desert, Dark beach.
It provides a lot of features are as follows;
Key Features
Fully responsive
Intuitive user interface
Multiple plugins supported
Pre-built professionals skins
Flexible grid layout & fully responsive
Open built-in lightbox gallery or link to URL
Multiple galleries on a single page
Supports all major web browsers and devices iPhone, iPad, Android
Pricing
Its Standard plan available at $99, Standard lifetime at $199, unlimited at $199, unlimited lifetime at $399.
4. Nimble Portfolio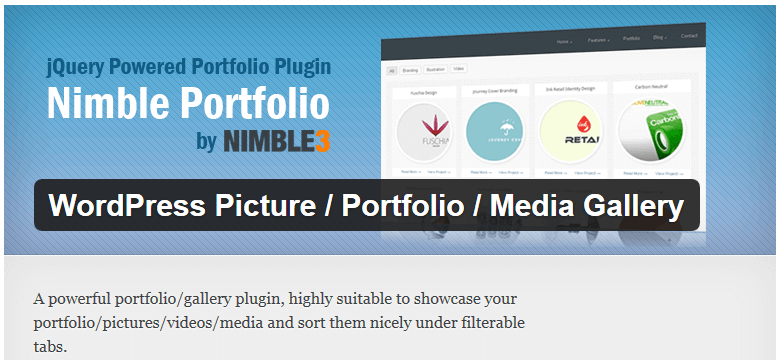 The nimble portfolio is one of the most popular portfolio or gallery plugin with over 90,000+ downloads. It allows you to upload your digital works and images by creating a new portfolio item – A portfolio items are custom post types here you set portfolio item photograph as the featured image.
It comes with both a free and paid version. Further, it has a lot of skins and features but its free version includes limited features & skins. For more skins, you will have to buy its premium version.
Apart from that, it includes a number of addons such as default+, isotope, ihover, fancybox, magnific popup, pretty photo, and swipebox addon.
Key features
Super simple to set-up & use
Highly flexible & versatile
Widgets enabled
Extensive documentation
Outstanding support
Responsive & fluid layout for web and mobile
Custom post types for portfolio items
Built-in pretty photo gallery
Display content via custom post & post categories
Simple categorization and sort/filter feature
Powerful page options & jQuery sort filter.
Advanced options & shortcode support.
Multiple template design.
Easy categorization & short/ filter feature.
5. FooGallery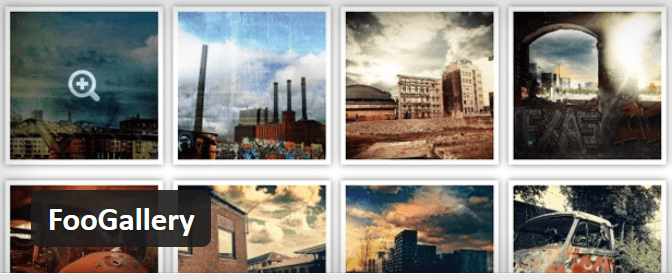 FooGallery is comfortable for those who are familiar with creating a post in WordPress. When you installed this plugin, so a button is added to the post editor, just click on it to create a gallery. Meanwhile, you can manage images or videos with the help of a built-in media library.
Further, the plugin has a drag & drop image feature that lets you arrange images in any order that you want. Also, it has a NextGen gallery import tool help you to import albums and galleries.
The plugin has shortcodes using that you can show a gallery as well as thumbnails anywhere on your site. Number of gallery templates to choose from, but you can choose both galleries and albums with CSS to style. You have to activate an extension to access built-in albums.
Apart from that, there is an amazing lightbox added to this plugin and the best thing is it depends on an extension framework which makes it lightweight and developer-friendly.
It is highly configurable and extensible for developers or freelancers. It has proper image management because of its built-in media.
However, it's pro version includes only hover effects, advance pagination, and infinite scroll, while you need to buy its premium extensions for advanced features.
Key features
Drag and Drop Reordering
Gallery Templates
Frontend filtering
Pagination
Lightbox support
Media categories
Visual editing
Copy to clipboard
Single-click gallery page creation
Video galleries
Many shortcodes
WordPress templates
Pricing
It is available in free as well as a paid version. It's pro version available at $49.
6. Easy Portfolio plugin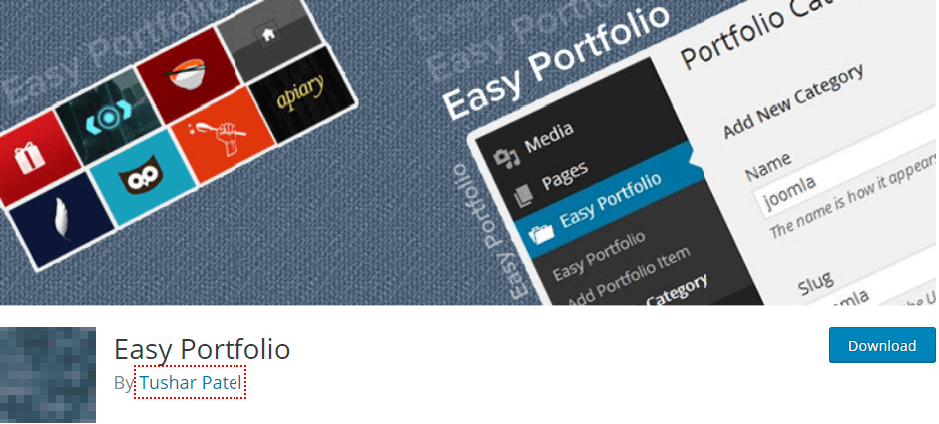 Easy portfolio plugin is a free and lightweight plugin provides an interactive users experience. It is used to design a portfolio with filterable functionality.
Further on, the easy portfolio has tons of features like easy use, customization portfolio plugin, portfolio details page customization, latest items show in orders & also in a column. Also, it offers you so many categories like climbing, skydiving, diving, surfing, children, nature, joomla, hotels, technologies, etc.
As you install the plugin, thereafter, you just have to add your content that you want, then define the image or projects and press the Save button. After this process, the plugin includes shortcodes that it will give you, you just need to copy and paste into any page or post on your site to add portfolio galleries.
Finally, if you are comfortable working with WordPress, this portfolio is best for you.
Key features
Easy to use
Customization portfolio plugin
Portfolio details page customization
Categorized portfolio items
Latest portfolio items
7. TLP Portfolio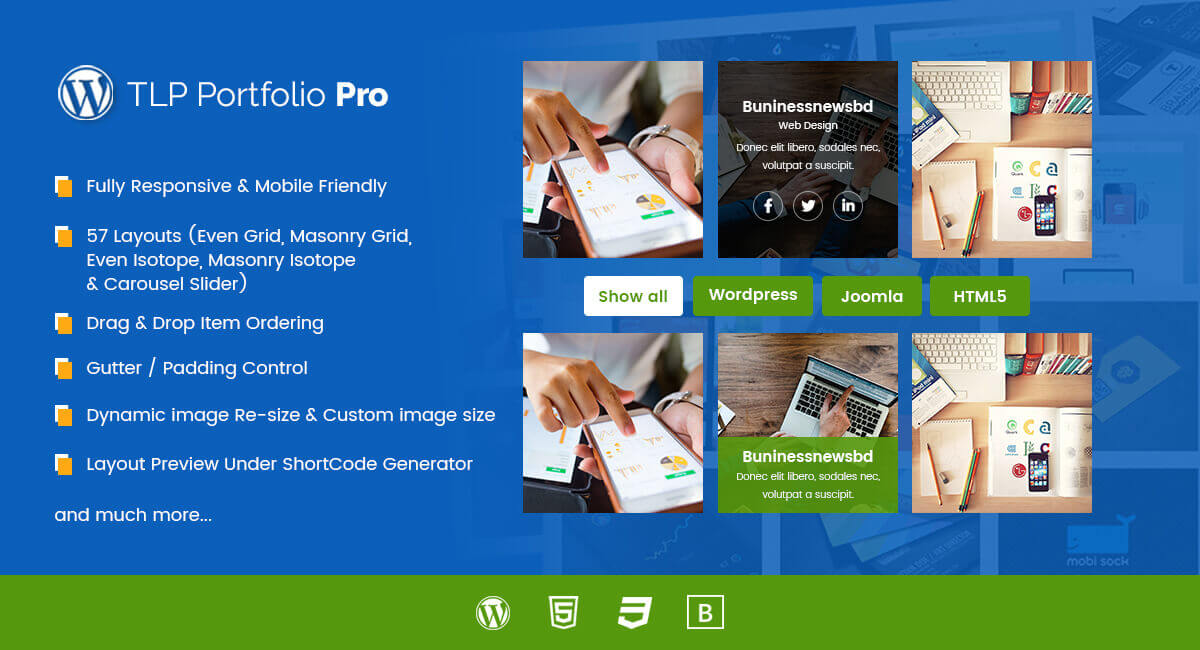 TLP portfolio is a free, as well as paid plugin, shows your personal or company portfolio. It is fully responsive that has custom styles for grid features and page layouts – you can switch between them using plugin's shortcodes and display portfolio gallery you want.
Further, it includes various custom fields such as project URL, short description, tools, techniques, tags, etc. Not only this much, it also has carousel slider included widgets with various settings that allow how many you want to show or at a time and much more.
Continuously, the plugin is based on the coding of HTML5 & CSS3. Using its shortcode and widgets you can display your items with grid view. Also, it has four default layout in shortcode called layout="1″ / layout="2″ / layout="3″ / layout="isotope".
It comes with a lot of features & functionalities, elaborated are as follows;
Key features
Fully responsive
Permalink control
Primary color control
Image size settings
Shortcodes
Custom CSS option
Category filter
Dynamic shortcode generator
Different layouts included
Title styling (color, size, weight)
Grid, isotope & carousel
Even and masonry grid
Drag & drop ordering
Font size, color & alignment control
Detail page field control
Button color control
And much more
8. Codenova Portfolio

Codenova portfolio is a WordPress plugin allows you to show your projects/works/portfolio to their clients and customers. The plugin is easy to use & navigate. It manages your portfolio in the best gallery format using jquery filters.
With this, you can simply specify the title, description, and some other information. There is a unique feature of this plugin called widget through which you can display your portfolio anywhere you want. Also, you can display your all. top. or any portfolio you choose.
It comes with many features 7 functionalities, elaborated are as follows;
Key features
Portfolio widget
Easy customization
Smooth filtration with jQuery
Shortcode for pages/posts editor
The PHP code for WordPress template files
Option to categorized portfolio in multiple categories
9. Essential grid plugin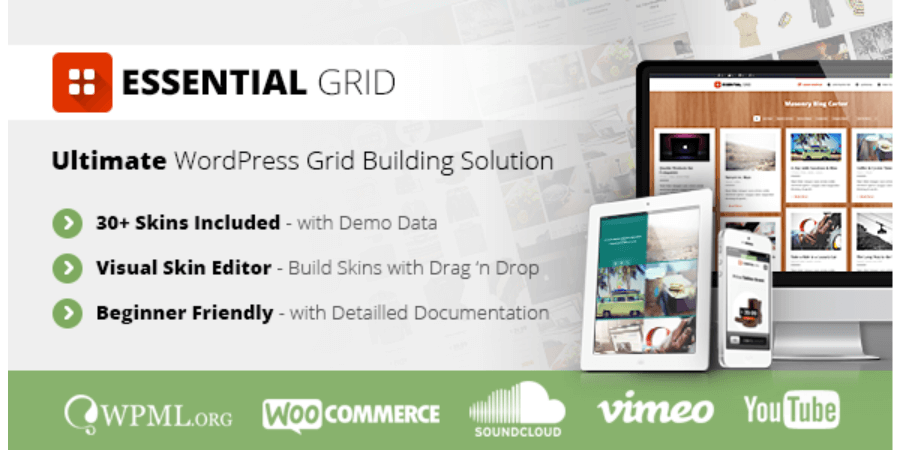 Another great Portfolio plugin for WordPress. It is a premium plugin lets you create attractive images, videos, and audio galleries from different sources. Means, displaying your content using the essential grid is extremely easy.
The essential grid has full of features that serves all the functions. This provides you an impressive high standard documentation & 30 visual skin builder to create a number of additionals skins. Additionally, it has import/export developer tools to import & export your skins, metadata to use in themes or migrating them to another WordPress installation. It also has masonry grids layout for blogs, portfolios, galleries, stores and more.
Continuously, it serves as an all-purpose grid building solution having unlimited possibilities for creating new things. You can customize the grid style as well as the order of the images as per your need. Means, you can add images, videos, WooCommerce products, blog posts, client logs and carousels to your grid.
One of the very best features for the portfolio is – dynamic filter feature allows you to tag your portfolio items so users filter them as per their needs.
Further, the plugin includes a lot of WordPress templates help you to make good looking portfolio layouts. Not only this much but if you wish to create your own layout, you can via its visual builder. What's more, it supports lightbox functionality in which a neat lightbox feature included so users play videos in the lightbox.
Apart from that, it comes with a lot of features are as follows;
Key features
SEO friendly
Fully responsive
Retina ready
WooCommerce supports
Visual skins editor
Single-click installer
Adjustable rows/column/spacing
Boxed full width, full skin layouts
Customizable transition speed
Easy customization with visual skin editor
Import & Export developers tools
Support media from Vimeo, YouTube, and SoundCloud.
Pricing
It costs $27 at codecanyon.
10. Go Portfolio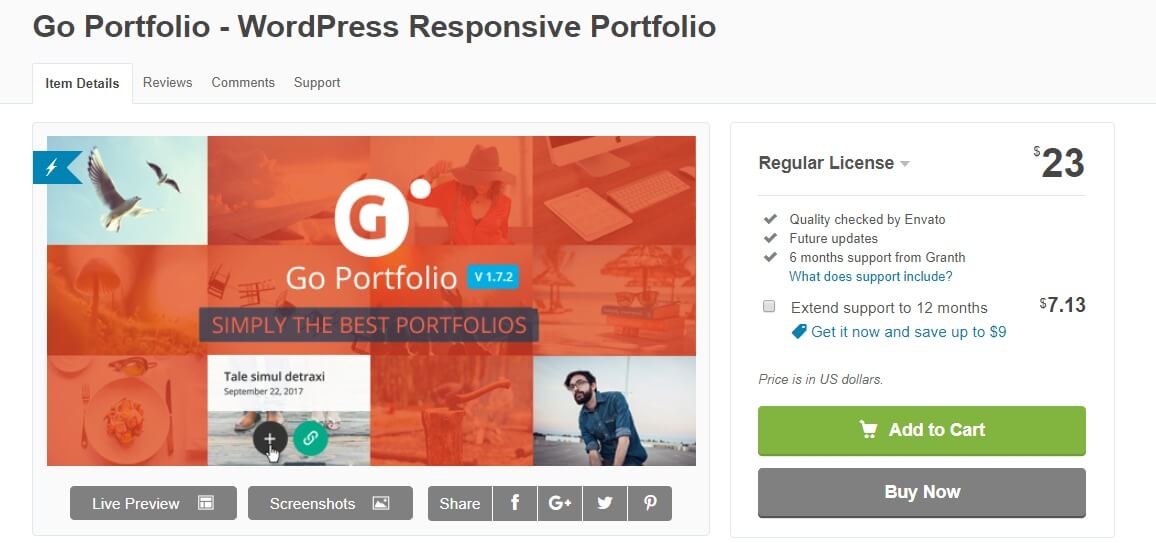 Go portfolio is the perfect plugin to create or display your portfolio items. With this plugin, you can create new custom post types or modify your existing blog posts, custom post type posts or products. Further, it is a useful tool to manage complete portfolios.
Further on, it is fully responsive, retina ready and compatible with WooCommerce so that you can create an online store easily. The plugin also used to create a post teaser via inserting shortcode to a single post except for the current item.
With its built-in editor, you can modify or add new templates and styles globally. The best thing is that every plugin does not have you can insert & add unlimited portfolios and add a number of custom post types on your site or a single page using shortcodes.
The plugin has 38 starter templates and number of design options such as 2 filter types, 4 default styles, etc. The plugin has tag filters option and support lightbox in which videos option available.
Key features
Supports pages
All modern browser supported
Builtin templates and style editor
Visual editor compatibility
WooCommerce supports
System and google web fonts
Compatible with the latest WordPress version
Supports all modern browsers
Advanced import and export settings
Classic isotope filter & opacity change filter
Advance admin panel with tons of features
Built-in templates & style editor
Pricing
Its costs $24 available at codecanyon.
11. Media Grid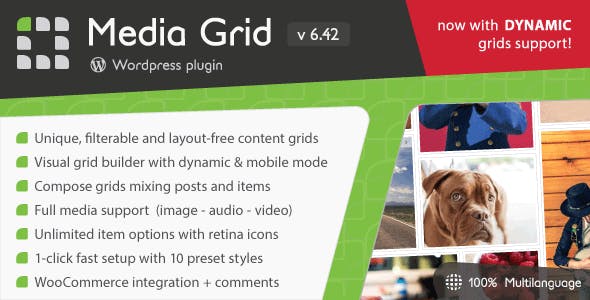 Media Grid plugin is a WordPress premium plugin allows you to easily create and display portfolio item. Next, it is based on advanced techniques also helps you to make own layouts, dynamically or manually. the plugin supports shortcodes and HTML. It has a lightbox that controls large contents.
Further, it comes with the visual grid builder feature that creating portfolio super easy. It manages your media items in an amazing grid view. The best thing that another plugin does not have, with this you can add a search box to your portfolio display that makes it easy to display a large portfolio.
Apart from that, we have discussed above, there are a lot more features come with this plugin, elaborated are as follows;
Key features
Unlimited layouts
Visual composer, drag & drop, grid builder, etc.
6 pagination system
Fully SEO deep linking system
Animated GIF support
16 modern loaders
Images right click protection
Single click immediate setup
WooCommerce compatible
WPML and Polylang support
Freely shape up to build your own grids
Dynamic grids & one-click grid closing system
6 pagination system to choose from
Full media support
675 icons to beautify filters & customize items
Animated GIF support
Pricing
The plugin costs $25 with a regular license.
12. Huge IT Portfolio
Huge-IT portfolio is also another WordPress portfolio plugin to present your work in a better way. You can create unlimited portfolios with advanced import and export facility. Its free version LITE has fully responsive, 9 Advanced View, store view functionality, categories & sorting features.
You can demonstrate all your work by creating many portfolio galleries. Further, there are many lightbox enabled layouts and seven unique views that show your portfolio items as a responsive gallery such as full-height blocks, full-width block, Gallery/content popup, blocks toggle up/down, content slider, lightbox gallery, FAQ toggle up/down.
With this plugin, you can simply add images, videos content and enter the details, thereafter, copy & paste a single line of shortcode where you want to add it. The plugin includes category buttons serves to sort and group content into various sections/subjects.
Finally, the base plugin is free and it's pro version comes with more advanced features like 9 Animation type, 11 social sharing options, 6 beautiful lightbox views, watermarks, advanced categories, search add-on, etc.
Key features
Unlimited options to create portfolio galleries.
Auto-generated short-code.
Fully responsive.
8 different viewing options.
7 different layouts.
Pricing
It is available in both free as well as paid version. The paid version starts from $39 for personal, $49 for multi-site, and $59 for developer.
13. NextGen gallery
The NextGen Gallery is a simple portfolio but very powerful plugin manage the entire gallery. It has the ability on the backend to batch upload photos, import metadata, add, delete, sort photos, edit thumbnail, group galleries into albums. In short, with this plugin, you can create your liking album within minutes.
On the front end, it includes three main gallery styles (image browser, thumbnail, and slideshow) and two album styles (compact and extended). These all have a wide array of options to control style, size, timing, transition, lightbox, effects, and much more.
With this plugin, you can manage all settings, vary the size, style, color, lightbox effect, timing transition, etc. from the Gallery tab of your site's dashboard. You can also add text, number your album pages, watermark, and external link to images. Apart from that, save your galleries by applying password via falling back on native WordPress functions.
Further, the plugin is compatible with most of the theme. Finally, Its free version comes with slideshows and thumbnails, as well as compact or extended album. But the premium version comes with various advanced features and extensions. These features and extensions show your galleries in additional formats, allow digital downloads, sell photos online, show price list, and offer coupons.
Key features
Pro thumbnail gallery
Pro mosaic gallery
Lightbox
Image deep linking
Open graph
Image protection
Proofing
Stripe, Paypal
Digital downloads
Pricing
You have to pay $79 for NextGen plus, $99 for NextGen pro, $139 for all themes and plugins.
14. The Post Grid

The post grid also another WordPress plugin allows you to generate beautiful grid for your product showcase, blog post, portfolio, gallery, team member showcase, category post display, archive post display, tags post display, and much more.
Further, you can also style your layouts itself via layout editor to create a unique style of your grid. We can say that the plugin serves as an all-purpose grid building solution having unlimited possibilities for creating new things.
It's easy to display your content using the essential grid. However, you can customize the grid style as well as the order of the images as per your need.
The plugin is compatible with all devices like mobile, tablet, laptop, desktop, etc.
Key features
Ready skins
Query post by taxonomy
Display meta fields
Display shortcode
Filterable grid
Ajax load more
Create unlimited layout
Extra query parameter
Compatible with WooCommerce and SEO friendly
To access more features, you may upgrade to an affordable pro version.
Pricing
It is available free as well as paid version.
15. Portfolio by BestWebSoft

Portfolio by BestWebSoft for WordPress portfolio is another popular plugin. You can use it for any type of portfolio but it is created especially to focus on web development agencies. It has custom taxonomy for technologies and executioners so that you can specify the visitor who worked on a project as well as technologies that is used in the project.
Further on, it is the best choice for creating and adding the past project to your site. It also allows you to create, configure, and manage a number of portfolio projects. For each project, it has a short and long description, project details, screenshot, URL, date of completion, etc.
With this plugin, you can also create a single web page to display your portfolio items material. The plugin also permits you to upload many photos per portfolio merchandise that is a good way to display the task which has some pages or view.
Features of Portfolio by BestWebSoft
Add a number of portfolio projects like title, description
Change image size for thumbnail and album cover
Set images number to show per row
Install/delete demo data
Add labels for additionals fields
Latest WordPress version
Compatible with multilingual
Incredibly simple setting
It is hassle-free and user-friendly.
You can modify different elements, such as the size and label of the image.
The result is a dynamic portfolio that displays your work well.
Pricing
The free version is a great way to start building your professional portfolio. But the paid version costs $25 provides additional functionality, including classification and extended support.
16. Amazing Portfolio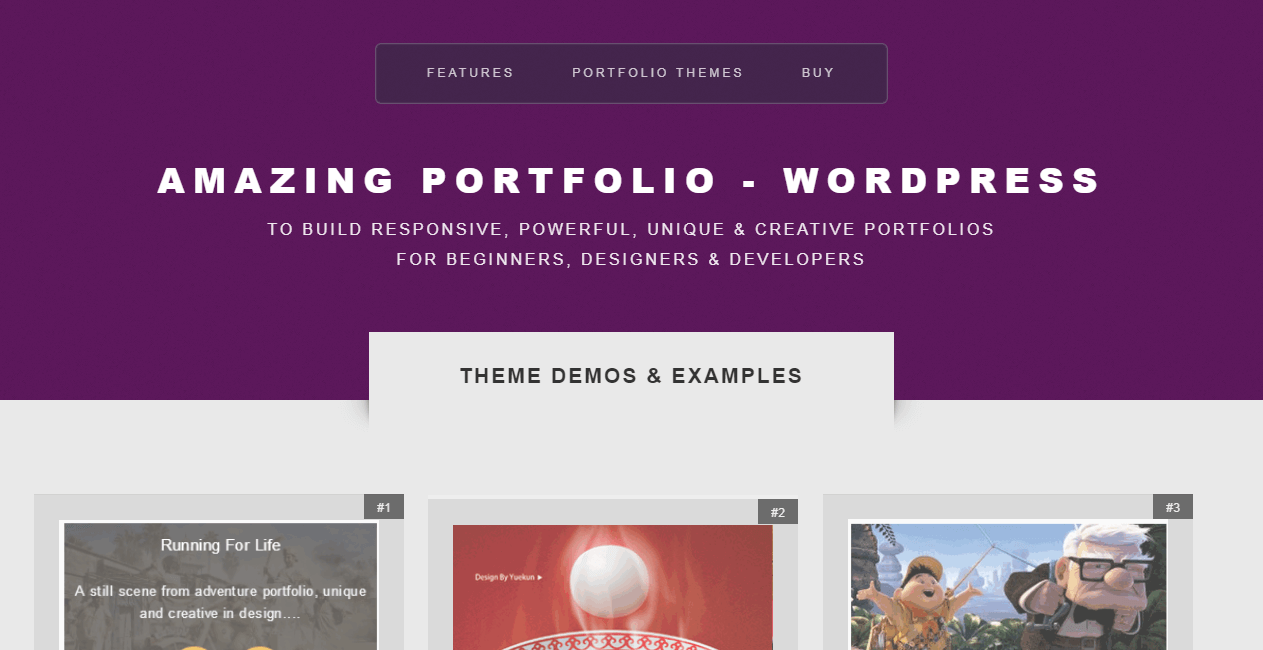 Amazing Portfolio is another feature-rich portfolio plugin for your WordPress site. This plugin is extremely flexible providing 25 stunning designs for your portfolio section.
Moreover, using this you can create great-looking portfolios with numerous columns, fully responsive, and filterable design. This plugin gives you full control almost over all the elements of the portfolio section.
Further on, it is easy to use plugin provides many customization options. It is SEO friendly comes with 6 column grids, portfolio filter styles, portfolio homepage gallery, and many more. Apart from that, it has tons of features, elaborated are as follows;
Key features
Fully responsive
Easy installation
Unlimited portfolios
No column space
Title on hover
Pagination support
Category support
Related items
No. of posts to show
Compatible with all themes
Supports all browsers
Plugin evolves all the time and new themes are getting added regularly.
Offer CSS editor that helps to style the portfolio section as well as customize it without any code.
17. Custom Content Platform
The custom content platform is the best free gallery plugin WordPress helps you create a basic portfolio where you can add your project to categories and tags. For each project, it lets you add project details like project start and finish date, client info, site, etc.
It gives users the option of switching the theme without losing any content. Working with this plugin can be as easy as creating new posts or pages.
With this plugin, you need to add extra images inside the project details for project images. And features image can be used as a cover image. Also, you will have to configure your theme so projects can be displayed in a grid layout.
The plugin is specially designed for artists, web designers, photographers to display their work. It allows any theme creator to create a theme on the top of this plugin.
Key features
Custom permalinks
Post format
Stick project to the portfolio page
After creating an individual project, tagging and categorizing them, add project details.
Project details include images, URL, and description as well as customize portfolio permalinks.
On combining the plugin with a Role Management plugin, you can allow others also to manage your website's portfolio.
On the basis of your theme, you can even have audio and video formats as well.
18. OTW Portfolio WordPress Plugin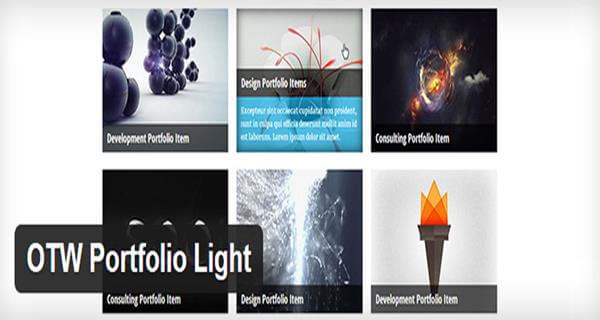 OTW Portfolio is a free WordPress plugin includes 3 column templates using them you can display your work in style. Using their shortcodes you can be called these templates in a page.
Further, it is fully responsive plugin adds additional functionality to your site. You can create as well as categorize your portfolio items as per your requirements and display them with easy to use filters which will make it user-friendly. However, it provides you the best filter option and pagination.
Continuously, the plugin offers you the following settings for your portfolio items: content, title, short terminal, client site, featured image for archived and portfolio image, etc.
The plugin includes shortcodes you just need to copy and paste in a new page to show your portfolio items. Additionally, the default image size can be changed in the portfolio settings page for portfolio templates, single portfolio templates, and archives. Not only that, but you can also set your content width. Apart from that, it comes with a lot of features are as follows;
Key features
Localization and international ready
3 column templates
Templates shortcodes
You can classify your portfolio items
19. WordPress Zoomfolio Plugin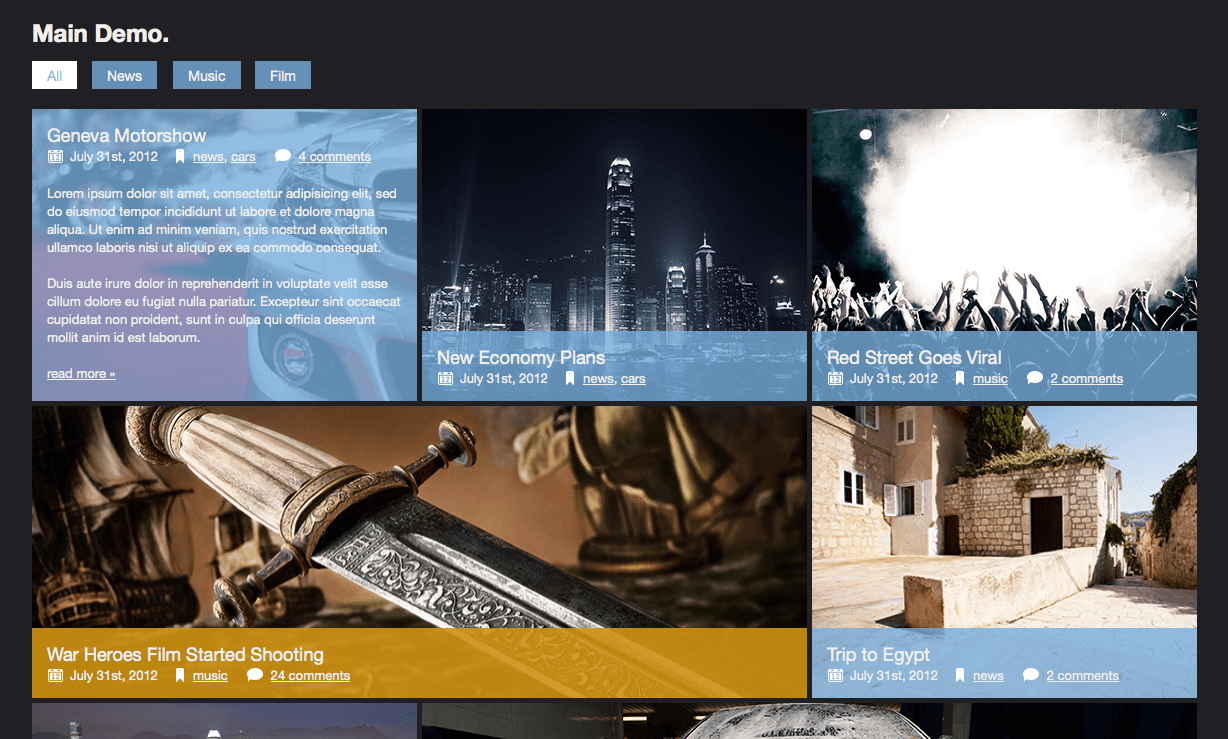 Zoomfolio is a uses the custom post type option which makes it a completely modern and responsive portfolio WordPress plugin. The custom post type option help you to creates a stunning portfolio on your site. It includes the shortcode generator through which you can easily customize the portfolio section design.
The plugin built with CSS3 technology that displays your portfolio items in the 3D effect. Zoomfolio is compatible with all devices like mobile, tablet, laptop, desktop, etc. It comes with 10 unique skins. It supports multiple post types which includes audio, video, testimonials, and YouTube.
With this plugin, you can also create and show your portfolio items using lightboxes. Apart from that, it has tons of features are as follows;
Key features
SEO friendly
Custom lightbox
Shortcode generator
YARPP support
WooCommerce support
Android, iPhone, iPad optimized
Easily installation – install and prepare this plugin in less than one minute.
Fully Responsive – From mobile to HD, it always gives an awesome response.
Flexible – Recent posts can be used to work as a showcase.
RTL support – use left-to-right layout without any problems.
CSS3 Technology – This gallery uses state-of-the-art css3 definitions to present awesome 3D effects in the latest browser.
Pricing
The plugin costs $19 with a regular license.
20. Grid FX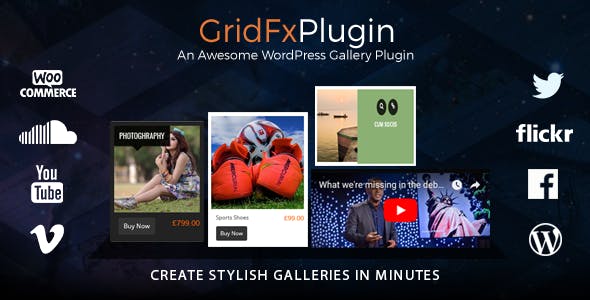 Grid FX is a highly customizable portfolio gallery plugin for WordPress that lets you create unlimited grid and masonry style galleries in a few minutes.
With this plugin, you can create a grid layout for a blog post, custom post type, custom taxonomy/category, WooCommerce product, a custom product, image gallery and attachment, video, product features, client showcase, portfolio, team members, screenshots, etc. Moreover, it is perfectly suited for various content formats such as video files, images, audio, WordPress posts, etc.
It comes with 80+ customization options like lightbox background, custom buttons, title animations, etc. through these you can take full control of your grid. Apart from that, it has a lot of features that we have elaborated below;
Features of Gid FX plugin
Highly customizable
Social integration
Comprehensive grid dashboard
Super clean HTML templates
Translation ready
Themes and colors
Sort & search feature
Responsiveness
WooCommerce supported
Different navigation styles
Mixed grid
Directly play videos on-grid gallery.
Pricing
The plugin costs $20 for 6 months support. You can also extend support by paying an extra $20.
21. Cube Portfolio Responsive grid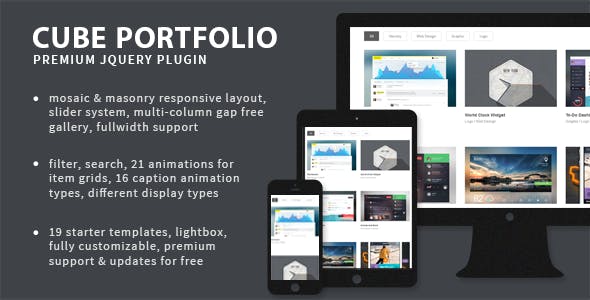 A WordPress grid plugin that lets you organize every aspect of your website into a stylish grid, which makes navigating easier. It includes beautiful animated filtering, powerful portfolio system, custom captions. Along with this, it is the best plugin for team members, portfolio projects, image gallery, blog post, or any other ordered grid content.
Further on, you can take full control of every aspect of the plugin like fonts, color, spacing, borders, etc. with its live template builder. More so the plugin comes with six templates among theme three for expert content types and three visual design templates. However, each template looks amazing and comes with beautiful, smooth CSS3 animations. Additionally, it has 10 grid animations and 11 caption animations
Finally, we can say the plugin is very easy to use for beginners and very customizable for advanced users.
Key features
Responsive design
Fully customizable
8 starter templates
Live template builder
Animation of item grid
Load more support
Lazy loading support
Default filter
Multiple portfolios on the same page
Animated supports
Constant updates and support.
Pricing
The plugin costs $19 with 6 months supports. But you can also extend the support by paying an extra $5.25
That's all!
WordPress portfolio is the best way for a photographer or designer to showcase their work to the world. Using the plugins mentioned above you can display your work. But choosing the best one is a confusing task. That's why we have mentioned above detailed comparison that makes it easy.
We hope the article helped you to choose the perfect portfolio plugin as per your need. In case of any problem give your valuable suggestions in the comment section provided below.